July 24, 2019
WOW Team Leader Spotlight: Allison Spicer
Image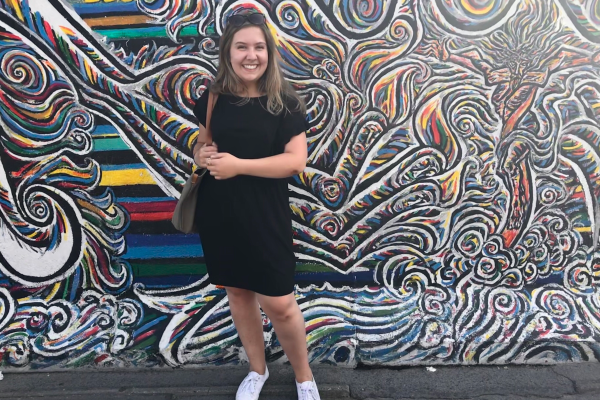 Description
Featured below is one of our WOW Team Leaders, Allison Spicer.

What do you want to do once you graduate? For a really long time I thought that I wanted to be a doctor but, after realizing how much I loved engineering, I plan to find a way to combine the two in my future career! Right now, my goal is to work as a Process Engineer in some kind of healthcare-oriented workplace and I have my hopes set on finding a position in a hospital or a pharmaceutical setting after graduation. Once I have found my niche in the workforce, I would like to come back to school and get my Masters in whatever area that may be.
Allison has been with the WOW Program since May 2017, so a little over two years. Learn more below about her positive experiences with the WOW Program! 
What is your favorite part of WOW? While entering a K-5 classroom might inflict some major stress for others, volunteering with WOW forces me to forget about my own stresses for a few hours each week as I dedicate all of my attention to the students and making the program fun for all of us. The students are always so receptive of our lessons and give out praise freely so I never fail to leave the visit happier (although definitely more tired) than how I began. This program also gives me a wonderful opportunity to do my part to even the playing field for girls and ESL students early on in their STEM careers. 
What have you learned from WOW and how might this be applied to your future career? A really big part of my job as an Industrial Engineer is to take instructions, break them down, and present them in a way that is clear and easy to repeat. Volunteering with WOW has given me a great opportunity to practice this skill on the fly in what is likely to be one of the most high-stress environments I will ever be asked to do so. Because of my habit of making rules that make the experiment flow better, I have been lovingly deemed the "Rule Maker" in our WOW group and I never back down from the challenge of a multi-piece program!
Anything else to add? I cannot emphasize this enough: WOW is the highlight of my week every single week. From students slipping me notes that say "You are the best" to them asking if I am sisters with the other girl named Allison in the class, there is never a dull moment and the results of your work are immediately visable. Outside of WOW I am also a violinist in the Buckeye Philarmonic Orchestra, a member of the International Affairs Scholars group, and work as both a Student Assistant at the Honors and Scholars Center and a Resident Advisor in Smith-Steeb Hall!
---